Free Guest Posting vs. Paid Guest Posting: Finding That Sweet Spot
Dive into the pros and cons of free and paid guest posting to determine the most effective approach for your content marketing efforts and boost your online visibility.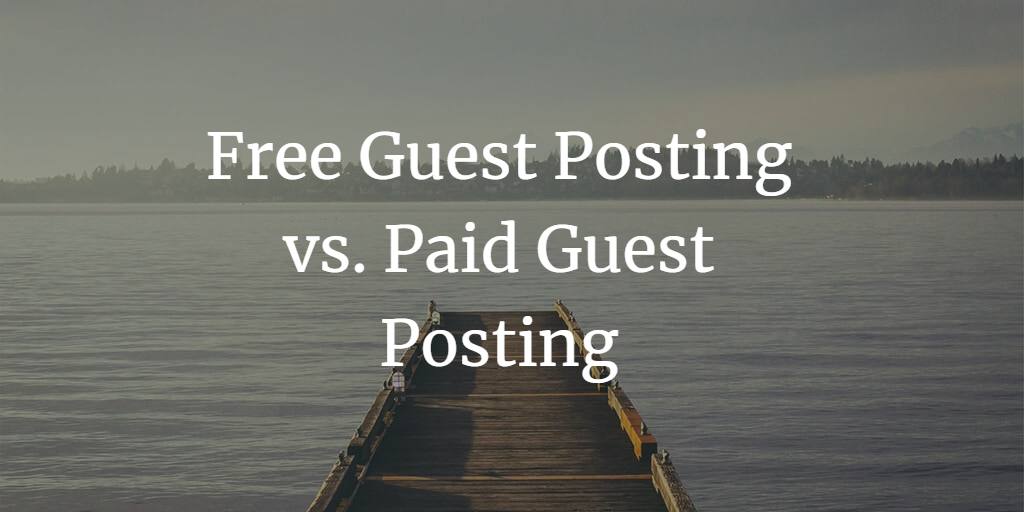 Table of Contents
Introduction

Free Guest Posting

Pros

Cons

Paid Guest Posting

Pros

Cons

Finding the Sweet Spot

Conclusion
1. Introduction
Guest posting is a widely used content marketing strategy that can boost your online visibility, build authority in your industry, and drive traffic to your website. But should you opt for free guest posting, paid guest posting, or a mix of both? In this guide, we'll examine the pros and cons of each approach and help you find the sweet spot for your guest posting strategy.
2. Free Guest Posting
Free guest posting involves writing and submitting articles to other websites without paying for the opportunity to be featured.
2.1. Pros
Cost-effective: Free guest posting is an affordable way to increase your online presence and generate valuable backlinks, especially for small businesses and startups with limited budgets.

Builds relationships: Engaging in free guest posting allows you to connect with other bloggers and website owners, fostering valuable relationships that can lead to future collaboration opportunities.

Creative control: When guest posting for free, you usually have more creative control over your content, allowing you to express your thoughts and ideas without constraints.
2.2. Cons
Time-consuming: Finding suitable websites, pitching your ideas, and writing quality content for free guest posting can be time-consuming, potentially taking away from other crucial tasks.

Limited exposure: Free guest posting opportunities might not always provide the desired level of exposure, as popular websites with high traffic often charge for guest post placements.
3. Paid Guest Posting
Paid guest posting involves paying websites to feature your content, ensuring greater exposure and potentially higher-quality backlinks.
3.1. Pros
Increased visibility: Paid guest posting can provide higher visibility, as premium websites with larger audiences often accept paid placements.

Better backlinks: Purchasing guest post placements on reputable websites can result in higher-quality backlinks, which can improve your website's search engine ranking and authority.

Efficiency: Paying for guest post placements can save time and effort, as you won't need to spend as much time searching for opportunities and pitching ideas.
3.2. Cons
Cost: Paid guest posting can be expensive, depending on the website and the level of exposure offered.

Risk of penalties: Google frowns upon paid link building practices, and if you're caught engaging in such activities, your website could face penalties, negatively impacting your search rankings.
4.Finding the Sweet Spot
To find the perfect balance between free and paid guest posting, consider the following factors:
Budget: Determine how much you can allocate to guest posting. If you have a limited budget, focus on free guest posting opportunities and reserve paid placements for high-quality websites that can significantly boost your online presence.

Target audience: Consider where your target audience is most likely to engage with your content. Free guest posting on niche websites might be more effective than paid placements on sites with broader audiences.

Quality vs. quantity: Instead of focusing solely on the number of guest posts you publish, prioritize the quality of your content and the websites you collaborate with. A well-crafted guest post on a reputable website can have a more significant impact than multiple posts on lower-quality websites.

Track your results: Monitor your guest posting efforts to determine which approach yields the best results. This data will help you fine-tune your strategy and allocate resources more effectively.
5. Conclusion
Both free and paid guest posting have their pros and cons, and finding the sweet spot will depend on your budget, goals, and target audience. Focus on creating high-quality content and building relationships with reputable websites to maximize your content marketing ROI. By tracking your results and adapting your approach accordingly, you can create a guest posting strategy that drives traffic, builds authority, and boosts your online visibility.