How to Choose the Right Keyword Tool
Learn how to select the best keyword tool for your SEO and PPC efforts. Compare features, analyze pricing, and optimize your online marketing strategy with our comprehensive guide.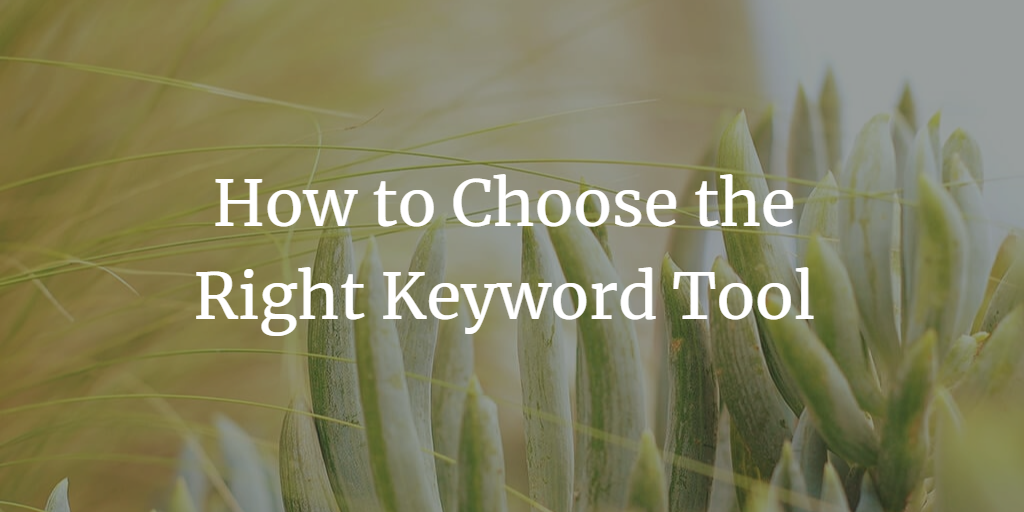 Table of Contents
Introduction

Why Keyword Research is Crucial

Features to Consider

Popular Keyword Tools

Comparing Pricing

Making the Final Decision

Conclusion
1. Introduction
Keyword research is a critical component of any successful SEO or PPC campaign. Choosing the right keyword tool can make a significant difference in your online marketing efforts. In this comprehensive guide, we'll explore the importance of keyword research, essential features to consider when selecting a keyword tool, popular options in the market, pricing comparison, and how to make the best decision for your needs.
2. Why Keyword Research is Crucial
Keyword research helps you understand what your target audience is searching for and allows you to optimize your content accordingly. It enables you to:
Identify high-traffic keywords relevant to your business.

Discover new content ideas based on search demand.

Optimize on-page SEO elements, such as meta tags and headings.

Improve the structure of your website by creating relevant categories and tags.

Analyze and outperform your competitors.
3. Features to Consider
When choosing a keyword tool, keep the following features in mind:
Keyword suggestions: The tool should provide a wide range of keyword suggestions based on your seed keyword or topic.

Search volume: The tool should display the search volume for each keyword, helping you target high-traffic keywords.

Keyword difficulty: Analyze how difficult it is to rank for a specific keyword based on competition.

SERP analysis: Examine the top-ranking websites for a keyword to understand the competition better.

Long-tail keywords: The tool should help you discover long-tail keywords, which are typically easier to rank for and have a higher conversion rate.

Filtering and sorting options: An efficient tool should offer filtering and sorting options to help you quickly find the most relevant keywords.

Integration with other SEO tools: A keyword tool that integrates with other SEO tools, such as rank tracking and backlink analysis, can streamline your workflow.
4. Popular Keyword Tools
Here are some popular keyword tools available in the market:
Google Keyword Planner: A free tool offered by Google, primarily designed for PPC advertisers, but also useful for SEO keyword research.

SEMrush: A comprehensive SEO tool that includes keyword research, competitor analysis, and more.

Ahrefs: A robust SEO tool offering keyword research, backlink analysis, and competitor analysis features.

Moz Keyword Explorer: A comprehensive keyword research tool from Moz, providing search volume, difficulty, and opportunity data.

KWFinder: A user-friendly tool specializing in long-tail keyword research and keyword difficulty analysis.
5. Comparing Pricing
When comparing pricing for keyword tools, consider the following factors:
Free vs. Paid: Some tools, like Google Keyword Planner, are free to use, while others offer premium features at a cost. Determine which features are essential to your needs and whether a paid option will provide a better return on investment.

Subscription Plans: Most keyword tools offer subscription plans based on usage limits or feature availability. Compare different plans to find one that matches your requirements and budget.

Trial Periods: Some tools offer trial periods, allowing you to test their features before committing to a subscription. Take advantage of these trials to evaluate the effectiveness of a tool before making a purchase.

Discounts: Look for discounts, such as annual billing options, which can significantly reduce the cost of a keyword tool.
6. Making the Final Decision
When selecting the right keyword tool, consider the following steps:
List your requirements: Identify the essential features you need in a keyword tool, such as search volume, keyword difficulty, and long-tail keyword suggestions.

Research and compare: Research the available tools and compare their features, pricing, and user reviews.

Test the tools: If possible, take advantage of free trials or limited free versions to test each tool's usability and effectiveness.

Analyze your budget: Consider your budget constraints and choose a tool that provides the best value for your investment.

Make a decision: After thorough research and testing, select the keyword tool that best meets your needs and budget.
7. Conclusion
Choosing the right keyword tool is essential for the success of your SEO and PPC campaigns. By considering the features, comparing pricing, and testing the tools, you can find the perfect keyword tool to optimize your online marketing efforts and drive more organic traffic to your website. With the right tool in hand, you'll be well on your way to growing your online presence and achieving your digital marketing goals.